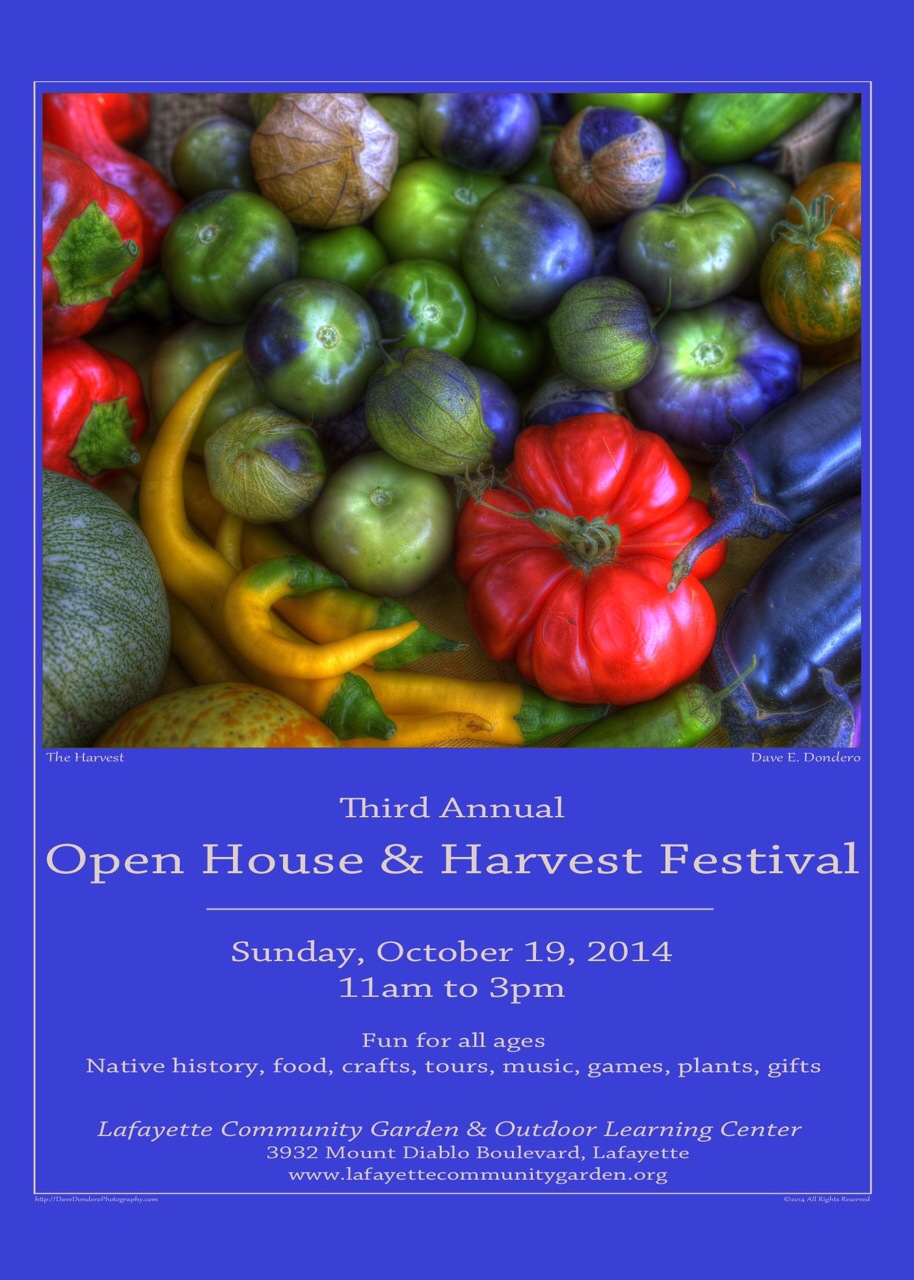 If you've driven by recently, you may have noticed that our garden is lush with harvest. We continue to be blessed with a diverse, energetic, positive community of garden members and supporters who have helped bring the garden and learning center together.
The space certainly has a life of its own and has developed into a reminder of how rich our local ecosystem is and how much potential even a parking lot can embody.
HARVEST FUN
We hope you will join us for our annual Open House and Harvest Celebration on Sunday, October 19 from 11am to 3pm. Garden members will be providing delicious snacks and drinks. Come build a scarecrow, make fragrant sachets and cooking herb packets, listen to local musicians, visit with Doc Hale and see his amazing mountain lion photos, take a tour of the garden and much more!
HARVEST FESTIVAL 2014 POSTER BY DAVE DONDERO
Local artist Dave Dondero will be offering the harvest festival poster (pictured above) for $30, with all proceeds to benefit the Lafayette Community Garden. To order, visit www.davedonderophotography.com.
GARDEN HIGHLIGHTS
Here are a few of this season's highlights which you can learn more about at our Open House:
We have reached capacity, with 70 garden member families and twelve families on the waiting list for next season.
Soil has been greatly enhanced by using compost and organic nutrients. Thanks to organic produce waste donated by Open Sesame and donated horse, rabbit and chicken manure, we have developed our own thriving compost system.
Ten beautiful new beds have been constructed.
Propagation of our plants has taken place in member homes and at the garden. Planting has occurred with attention paid to what's grown where. Rotation of crops and bio-intensive methods of planting are part of our planning.
The propagated plants that are not put into beds have been made available to the Lafayette community.
We have opened the garden to the entire community for tours Wednesdays 2pm to 5pm, Thursdays 9am to 12pm and Saturdays 9am to 1pm.
Member teams have worked hard to help our plants produce hundreds of pounds of vegetables and herbs. Most of our harvest is shared by garden members. Excess has been taken to two local senior housing facilities, Belle Terre and Chateau Lafayette.
We have water! With the City's help, we accessed and purchased piped in water so we no longer depend on it being trucked as in years past. Thanks to a grant from the Lafayette Community Foundation and private donors, we installed a very efficient drip irrigation system and we're cautious in what and how we planted in order to save water.
We held 15 educational classes and workshops for adults and families that were attended by over 150 community members. With the Lafayette Children's Librarians we co-hosted five very popular programs attended by over 150 children and families. And this summer we held a camp for children and eight educational events for preschoolers.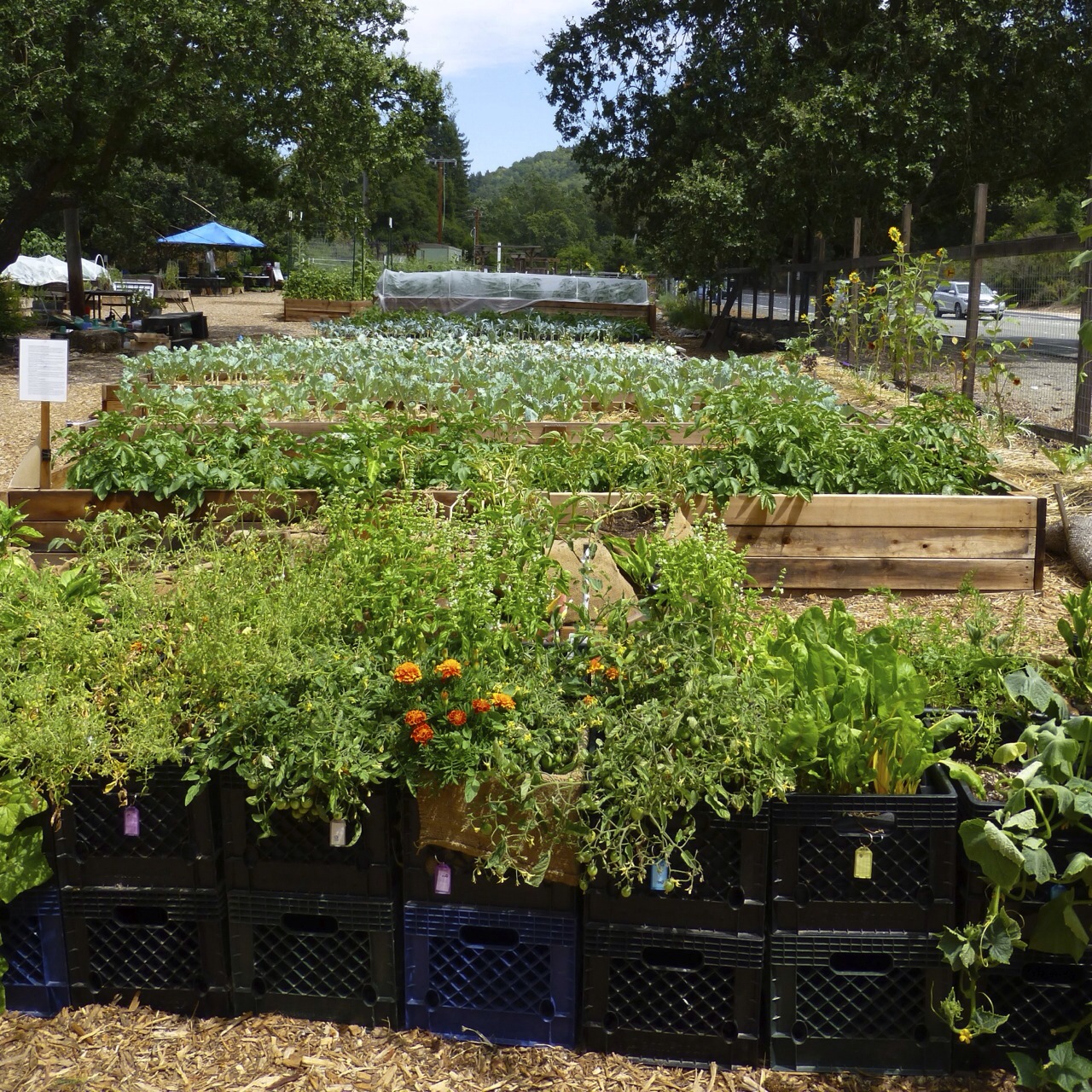 In preparation for our fourth season, we are rebuilding our greenhouse and some old beds to meet city and county codes, thanks to grants from the Happy Valley and Lafayette Garden Clubs. We are also ready to update our website to serve as a better resource for gardening and sustainable living resources as well as a place to stay abreast of our activities so please visit it often . Our growth and learning will continue and, as they do, we encourage you to stop on by!