WE ARE CLOSED FOR NORMAL OPERATIONS FROM OCTOBER 26, 2019 – MARCH 16, 2020. Please come visit during the 2020 season.
LCG and OLC ANNUAL REVIEW for the 2019 year (our eight season):
The Lafayette Community Garden and Outdoor Learning Center is located at 3932 Mt. Diablo Boulevard on land owned by EBMUD and leased to the City of Lafayette. Rent for the land is paid annually to the City by the garden through a sub-license agreement with Sustainable Lafayette, our 501C3 fiscal sponsor. From January through October 2019, the Community Garden and Outdoor Learning Center served the community by improving the health and aesthetic quality of the land, growing organic food and educating garden members and the public about many aspects of the natural environment.
The following improvements were made to the property from January – October 2019:
We planted ten native, perennial, drought tolerant plants along the street and within the garden and propagated and planted an additional thirty native seedlings in the oak area.
We brought in five cubic yards of compost and other organic amendments for preparation of beds each time a new crop was planted. This was used in addition to compost created on site.
We cleared and amended an area five feet by twenty feet on the northwest corner of the parking lot and established a butterfly and pollinator habitat. We planted milkweed and other flowering plants and then added mulch. We established drip watering to that area.
We created a labyrinth from natural materials found within the garden.
We brought in two cubic yards of gravel to add to the surface of the labyrinth and to improve the surface and integrity of the new pollinator area walkway and parking lot.
We covered the garden walking surfaces with "urban walk-on" mulch from Ecomulch.
We continued to weed extensively and removed poison oak from numerous areas.
We hired Traverso Tree Service to both remove dead and dying branches from 3 oak trees.
In addition, we continued to do the following:
We maintained community garden membership of eighty families, or about 120 people, and opened the garden to community visitors during our work hours.
We used bio-intensive methods to grow thirty-five beds of vegetables. We used compost to amend our soil. We rotated crops, planted densely to optimize resources and used companion plants and flowers to enhance growing.       We shared over 3000 pounds of harvest among garden members, with excess taken to Belle Terre Senior Housing.
We propagated most of our plants. In the greenhouse we used heating pads and a swamp cooler to modify the temperature. Excess seedlings were donated to schools and community members.
We maintained a large, redwood worm bin, from which we gathered amendment "castings".
We continued to improve the organization and communication among propagation, crop teams and the membership. Schedules for both planting and harvest were shared by teams with the garden director and members and work tasks were organized accordingly. A weekly email was sent to all garden members describing weekly events and tasks.
We continued to offer classes and workshops to community members of all ages through our education program. We held a series of monthly adult courses covering a variety of topics. We also held interactive intergenerational workshops.
We nurtured a new brood of 16 hens and established them in our state of the art chicken coop to replace our aging chickens.
We continued to use less water than many single use homes in Lamorinda, taking advantage of state of the art drip irrigation and mulching practices.
We maintained our partnership with Contra Costa Master Gardeners. The Master Gardeners did a "grand rounds" of the garden during their monthly visit. On three occasions they gave workshops to the community and garden members.
We began utilizing our redwood seed lending library.
We offered Boy and Girl Scouts Eagle and Gold Scout opportunities. Scouts built new garden benches and a viewing area around the chicken coop.
We gave tours to school and community groups, hosted our 8th annual Harvest Festival and advertised our open community hours with signage on the street.
The Lafayette Community Garden and Outdoor Learning Center – Board of Directors
Janet Thomas, John Eaton, Kim Overaa, Susan Dannenfelser, Michael DiPretoro and Jenny Ayers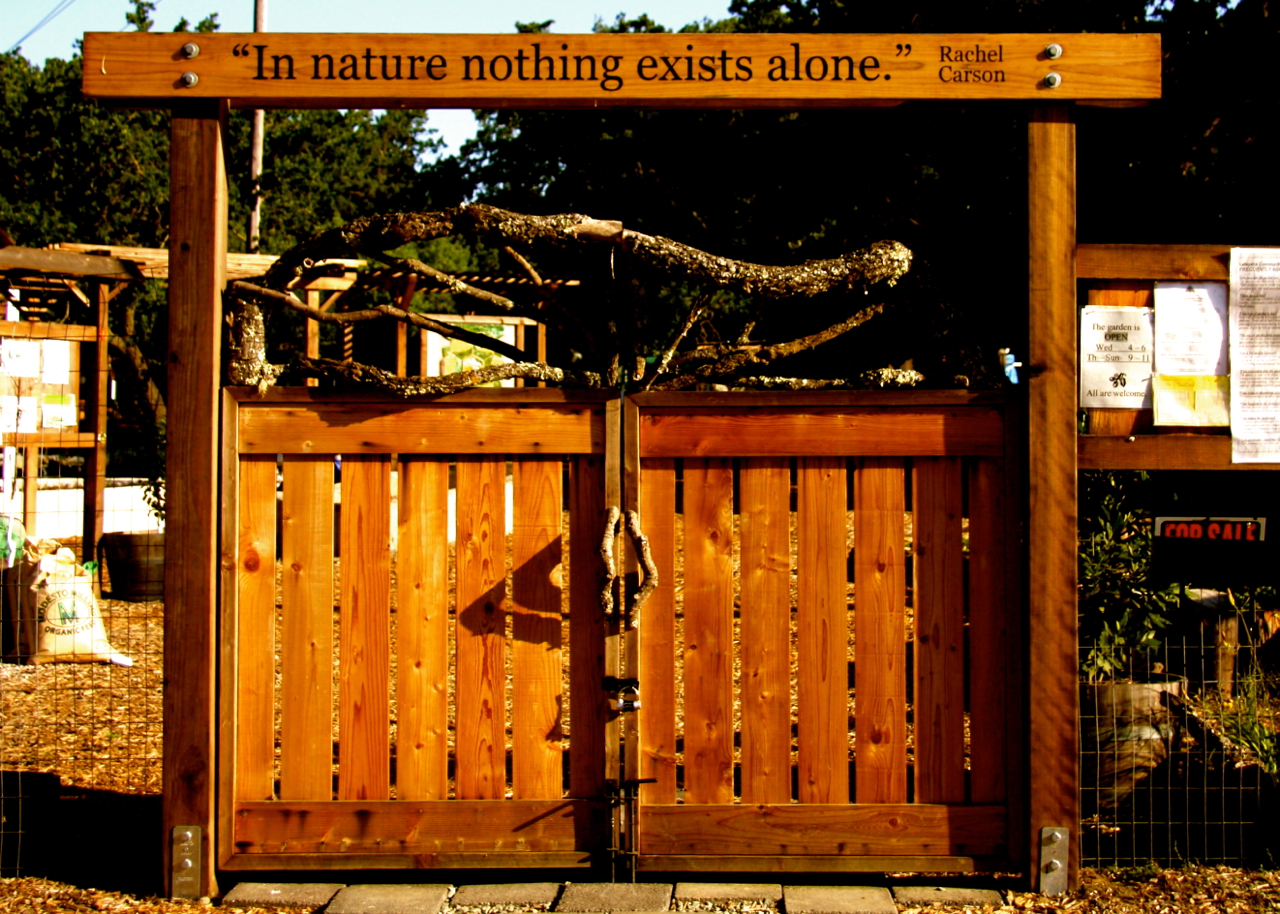 "IN NATURE, NOTHING EXISTS ALONE." Rachel Carson