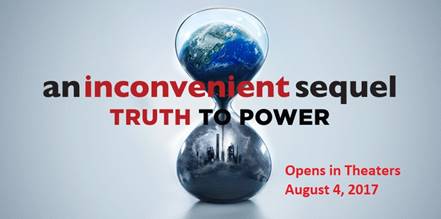 https://youtu.be/huX1bmfdkyA
Sunday, August 6 | 2:00pm-4:00pm
Century 16 Downtown Pleasant Hill, 125 Crescent Drive, Pleasant Hill, CA 94523
Please join Sustainable Lafayette for a community watch party of the opening weekend release of AN INCONVENIENT SEQUEL: Truth To Power to be followed by Q&A and Discussion led by Sustainable Lafayette and Climate Reality Leaders about what we can do right here in Contra Costa to be part of the solution to the climate crisis.
This sequel to the Oscar-winning 2006 documentary An Inconvenient Truth follows former U.S. vice president Al Gore as he travels the world attempting to combat climate change. The film shows Gore's work with fellow environmentalists, researchers, businesspeople, and politicians, and also details his behind-the-scenes efforts at the UN's 2015 Climate Change Conference, where the groundbreaking Paris Agreement was negotiated. Directed by Bonni Cohen and Jon Shenk.
Post movie discussion, no-host coffee and snack at nearby Urban Plates farm-to-table restaurant (located kitty-corner across from Century Theaters). To be facilitated by Sustainable Lafayette and Climate Reality Leaders.
TICKETS:
Buy online for the 2:00pm showing or take your chances at the theater that day.
OPTIONAL RSVP:
Sustainable Lafayette Facebook Page, so we know to expect you.
We hope to see you there.